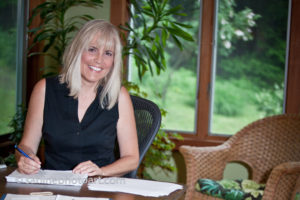 I love to write, but not about myself. Here's what I came up with under duress.
Award-winning author Cara Connelly writes sexy romantic comedies set in gorgeous locations around the US and the world. Her internationally bestselling Save the Date series has been translated into six languages. The next book, The Wedding Party, releases in May 2019. Cara recently relocated from New York to Florida with her rock 'n roll husband Billy, and Bella, their blue-eyed rescue dog.
---
Then I asked my husband to take a crack at it, and he put a whole different spin on it.
Here's an important thing you need to know about Cara–she really doesn't like talking about herself. Cara's like a lot of writers in that regard, which is why so many of these loquacious wordsmiths seem to get all tongue-tied when confronted with the dreaded "author bio." So Cara has asked me–her lovin' husband–to fill you in on everything else you might want to know about Cara Connelly.
First off, her real name isn't even Cara. The name her parents gave her is a perfectly acceptable moniker for, in my humble opinion, the most beautiful, intelligent and passionate woman on the face of the earth. But Google her real name, and you'd quickly understand that a debut romance novelist might not want to be confused with a teenage murderess.
I first laid eyes on Lis–um, Cara–on an avenue in Boston on a warm spring evening. It was a blind date, set up by my buddy Tom, who worked at a non-profit with Cara. Tom figured we might hit it off; Cara was young and single (like me), she had a degree in English (like me), and she was, he claimed, "wicked smaht" (Tom knew I had a thing for the smart ones).
Standing under the marquee of the Coolidge Corner Theatre, anticipating my blind date, I scanned each and every woman who walked along Harvard Street. My eyes fell on a gorgeous, slender young woman in blue jeans crossing the street. Her tousled brown hair fell to her shoulders, which were covered by a faded, sleeveless t-shirt from which emitted a pair of the loveliest, tanned and toned arms I had ever seen. Thirty years on, and I can still recall exactly what I thought at that precise moment: oh man, I hope this is my blind date!
She was, and that was the final first date of my life.
So let me fill you in on what I know, and what I've learned, about Cara Connelly. She was raised in a small town in upstate New York, surrounded by corn fields and woods. I'm told that Cara was one of the "those kids"–her nose always buried in a book, whether curled up with Jane Austen in a wingback chair on a cold winter's night, or laying on the porch swing with Louis L'Amour on a fine summer's day. Let me tell you, she hasn't changed a bit–turn off the light and go to sleep, already!
The authors on Cara's reading list, then and now, are best described as master storytellers. She'll read all kinds of fiction–romance, fantasy, historical, you name it–but to Cara, it's all about the story. Sure, some of the books may tackle important issues and have big literary themes underlying their stories, but to get on Cara's reading radar, an author's book damn well better have a rip-roaring tale holding it all together, along with a vibrant hero and juicy, action-filled scenes. Oh, and big surprise–the novels that Cara writes are built of the same stuff.
Cara didn't start her adult life as a novelist, though. Before I knew her, she'd spent time traveling in Europe, working in corporate communications, waiting on tables. She'd even written a fitness book (which explains those incredibly toned arms) that was published by Perigree. After that fateful blind date, there were a few blissful years in a seaside shack in Rhode Island, living the bohemian life, with Cara working in a restaurant and me digging clams out of Narragansett Bay.
Adulthood beckoned though, and Cara took herself off to law school. She graduated first in her class (Tom was right; she's wicked smaht) and then embarked on a career with the New York State courts, working with judges, writing briefs and memos and whatever it is that lawyers do. And she must have been damn good at it, based on the awe-like admiration I heard from her colleagues, who would praise  Cara's laser-like legal mind and inate ability to write clearly, forcefully and persuasively.
I first met the novelist Cara Connelly about ten years ago. She was sitting in the living-room recliner, our fat laptop computer under her fingers. I'm going to write a story, she announced. And over the course of several years, man, what a story Cara wrote. A sprawling, 250,000-plus-word epic set in the 1840s American West. It's a coming-of-age story, it's a steamy romance, it's an action-packed thriller. There are make-you-cry scenes of horrible loss, stretches of laugh-out-loud dialogue, bloody knife fights and supernatural happenings. The book is awesome, I loved it, and I consider myself privileged to have read it.
It was also turned down by every literary agent and publisher that Cara sent it to. But many expressed kind, encouraging words in their rejections, probably because they recognized the manuscript for what it truly is: the work of a gifted storyteller learning her craft.
Lessons learned (did I mention that she's wicked smaht?), Cara turned her attention to writing contemporary romance, and things began happening, and fast. The Sinners won a Golden Heart award, singled out by the Romance Writers of America as 2011's best unpublished contemporary single title romance. Cara signed with a top-notch literary agent (Jill Marsal, whom Cara just adores), and then inked a publishing contract with Avon Romance.
So now my beautiful blind date is a published author, and the journey continues. Cara's got six books already on the shelves, and she's hard at work on the next. A few things have changed over the years: the recliner's long gone, that fat laptop's been replaced by a slim MacBook, and to my eyes at least, the books are getting even better. But you know what hasn't changed? Cara's arms–they're still as awesome as they were on that warm spring night in Boston.