At ninety pounds, Madeline St. Clair might be small enough to fit into Adam LeCroix's pocket, but he knows she has the grit of a two-hundred-pound cage fighter. Five years ago, as a bloodthirsty young prosecutor, she'd damn near taken him down for lifting a Renoir out from under half a dozen armed guards. That's a brush with justice that the billionaire playboy can't forgive or forget.
Now the shoe is on the other foot. Adam's favorite – and legally acquired – Monet has been heisted from his Portofino mansion, and the insurance company, citing his questionable past, refuses to pay up. So Adam hunts down Maddie, now an associate at a high-dollar law firm, and gives her an ultimatum – work for him against the insurance company, or he'll use his influence to make sure she doesn't work at all.
Maddie would rather chew glass than work for Adam LeCroix. If she had her way, instead of sweating the theft of one of his legitimatemasterpieces, he'd be tearing pictures out of magazines to decorate his eight-foot cell in Sing-Sing. But he's got her over a barrel, because with a younger sister to support, she simply can't afford to lose her job.
As if working with Adam isn't enough to ruin her life, Maddie's best friend Vicky ropes her into bridesmaid duty, and decides to test out her do-it-yourself wedding vows on Maddie. Since Maddie's convinced that marriage is nothing more than indentured servitude, Vicky's sweet and sappy prose is nothing less than torture.
But as Adam draws her deeper into his life and Maddie learns there's a heart hiding under the sexy villain's hard-ass veneer, the sparks they've been throwing turn into real heat – and Vicky's mushy vows begin to make sense. Is there a chance the law-and-order lawyer and the fast-and-loose felon can put the past behind them and write their own wedding vow?
---
Reviews for The Wedding Vow
"If you like your contemporary romance to sizzle than look no further." (Jill Shalvis, New York Times bestselling author)
"Fun, sexy, well-written. A must read." (Lori Wilde, New York Times bestselling author)
"this battle of the sexes is sensual, zesty, and full of zing." (Publishers Weekly)
"Connelly's second Save the Date novel is an emotionally complex, captivating and daring story that succeeds on every level." (RT Book Reviews (top pick) 4 1/2 Stars!)
"This is a classic enemies-to-lovers romance, and the two are deeply reluctant, very entertaining partners. […] as fun as it is satisfying – for heroine, hero and reader alike." (Sarah MacLean for the Washington Post)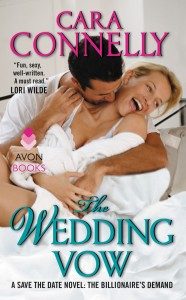 A Save the Date Novel